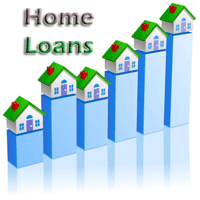 Among the varied loan options offered by the banks, a relatively good product is the mortgage loan or loan against property. This product is mostly preferred by the borrowers because it generally lets one borrow a relatively huge sum of money for any need. This loan generally has speedy approvals, easy documentations, and flexible repayment options.
A mortgage loan is generally used either by buyers of real property to raise funds to purchase real estate or by existing property owners to get funds for any purpose by putting a lien on the property that is being mortgaged. The loan is secured on the property of the borrower through a process known as mortgage origination. This means that a legal mechanism is applied which allows the lender to take possession and sell the secured property to pay off the loan amount in case the borrower defaults on the loan or fails to abide by its terms. A mortgage can also be expressed as a borrower giving consideration in the form of collateral for a benefit or loan.
A mortgage loan is popular because it has some appreciable benefits. Higher loan amounts are generally available with a mortgage loan for longer tenure when compared to conventional loans, and at a much-discounted interest rate. Most of the banks in India accept both residential and commercial properties for the mortgage. The mortgage loan can be used for any purpose like-
• Fund for your child's education in abroad
• Fund for any medical emergency
• Fund for the wedding of your children
• Fund for your dream vacation
• Fund for your business expansion
Let's take a look at various benefits of mortgage loans-
• They Have Lower Interest Rate:
As the mortgage loan is taken keeping the existing property as collateral, the rate of interest is typically less when compared to a personal loan. Mortgage loan interest rates mainly range between 12% and 15% while the interest rate of personal loans ranges between 15% and 25%.
• They Have Lower Or No Prepayment Charges:
One can close his/her loan against property by making prepayments towards the loan. Lenders typically do not charge prepayment charges in case of a mortgage loan.
• They Can Be Easily Availed:
As mortgage loans are secured loans, banks are more than willing to offer these loans. Thus, you would not find it very hard to get a mortgage loan. (For instance-One can get a mortgage loan in Surat very easily. There are many mortgage loan companies in Surat, engaged in offering mortgage loans from different banks including SBI mortgage loan in Surat. By approaching one of the leading mortgage loan companies, you can get a mortgage loan in Surat.)
• They Are Available For Longer Tenure:
Generally, these loans are available for longer tenure i.e. up to 15 years while the tenure for personal loans is generally up to 7 years.
• They Are Available With Lower EMI:
There is an inverse relationship between EMI and tenure. If there is longer tenure, there will be lower EMI and vice versa. As these loans are available for a longer tenure, these loans become suitable for those who cannot afford to pay higher EMIs. However, it is always recommended that a person should take a mortgage loan for the shortest tenure as the interest burden will remain low in case of a loan with short tenure.